2016…what a year for music, what a year for Hip Hop. Last year writing this blog, I had trouble finiding 10 albums that I really enjoyed. This year I found myself having trouble narrowing it down to just 13 albums (13 albums because they are three ties). If you are a Hip Hop junkie like myself, you were smiling from ear to ear with your headphones in most of the year. This year brought listeners so much variety in Hip Hop. We saw veteran artists eveolve and change up their styles to create music we have never previously heard from them. We saw up and coming artists drop albums that put them on the industry's map. We saw music touch on the social issues, feministic views and even the presidential election. From Kendrick Lamar to YG to Mac Miller to Isaiah Rashard and more, here are my rankings for the 10 best hip hop albums of 2016, and some honorable mentions that didn't quite make the list.
Honorable Mentions:
"Awaken, My Love!" by Childish Gambino
 In a year that seemed like everyone was trying a new style, Gambino continued the trend and brought a Disco type style to his latest album. It's worth checking out.
Kairi Chanel by Dave East
Dave East really burst onto the underground scene this year. Coming out of Harlem, East has an east coast style similar to A$AP Rocky and Jim Jones but with his own twist. Keep an eye out for his name to blow up in the up and coming years.
Atrocity Exhibition by Danny Brown
Danny Brown is sort of an acquired taste. It's like a hybrid of trap music and early old school hip hop. I enjoyed the album nonetheless. Check out the song "Really Doe" that features Kendrick Lamar, Ab-Soul, & Earl Sweatshirt.
Prima Donna by Vince Staples
Vince Staples followed last year's freshmen album with an EP this summer. I liked a handful of songs including "Smile" and "Loco" just to name a few. Solid project.
The Letter O by Dame D.O.L.L.A.
Dame D.O.L.L.A., also known as Damian Lillard when he is working his other job, dropped an album this October before the NBA season began. For a professional athlete, it's a good first album. Looks like Lillard is a man of many talents.
Cozy Tapes, Vol 1: Friends by A$AP Mob
A solid album that features all the members of the A$AP Mob. A$AP Yams, who passed away during the creation of the album, was the one who had the idea for the album. There's a couple songs on the album that really slap, so be sure to turn the bass down so you don't blow out your stock speakers.
1992 by The Game
The Game has been a busy man dropping 4 projects and a documentary on A&E in the past year. The Game samples plenty of old school rap beats while telling his life story during the year 1992, hence the title.
Now onto the Albums that made the cut…
10. Life of Pablo by Kanye West
Kanye West dropped one of the bigger albums of the beginning of the year on Valentine's Day in February. For me, I will always be a bigger fan of early Kanye albums such as College Dropout and Late Registration but I was pretty pleased with this album. I liked it a lot better than his previous album, Yeezus. Kanye had plenty of great features on the album as well such as Chicago native Chance the Rapper, Kid Cudi, Chris Brown, Rihanna, Frank Ocean and more. The 'Pablo' Kanye is referring to in his album's title is a combination of Pablo Picasso and Pablo Escobar, a mix of artistic masterpiece and the movement of product (his album) Kanye says. Recommended Tracks: "Real Friends", "Famous", "No More Parties in LA", and "Ultralight Beam."
9. Untitled Unmastered by Kendrick Lamar/ Birds in the Trap Sing McKnight by Travis Scott
Our first tie. It was hard to choose between the two but I wanted both of these on the final list. Kendrick Lamar surprised fans by dropping Untitled Unmastered roughly a year after the release of To Pimp a Butterfly. Just like TPAB, Kendrick continues his jazzy, funk influenced hip hop style as he stated most of the songs on this album were unfinished demos that did not make the cut for TPAB. Recommended Tracks: "Untitled 08", "Untitled 03", and "Untitled 06." I have never been a huge fan of Travis Scott and his previous projects but his most recent album changed my opinon on him. I could not even finish listening to his previous album, Rodeo, all the way through. But Birds in the Trap Sing McKnight was a really good album. This album was on constant repeat in my headphones during the month of September. Travis had a lot of good features on the album too like Kendrick Lamar, Andre 3000, The Weekend, Kid Cudi and more. I highly recommend you take a listen. Recommended Tracks: "goosebumps", "wonderful", "sweet sweet", and "through the late night."
8. Thirst 48, Pt. II by Boogie/ The Divine Feminine by Mac Miller
                                      Another tie as you must tell by now im not the most decisive blogger. But if you have not heard of Boogie yet, your are missing out. Another Compton rapper, whose young and has the potential to blow up in his own way, similar to YG, The Game, Problem and others from the city. In his mixtape, Boogie touches on plenty of current social issues that are prevelant in conversations around the country today. Keep an eye out for the up an coming rapper to blow up in the next couple of years. Recommended Tracks: "N**a Needs", "Won't be the Same", "Two Days", and "Slide on U." Just like Travis Scott, I have never been the biggest fan of Mac Miller and his previous albums, but Mac incorporated a whole new style with this album. Slow jazzy beats with a gospel-rap type style similar to Chance the Rapper's Coloring Book but with more romantic lyrics, hence the title. I have to give credit to KSSU for bringing this album to me as I was the DJ at the station in charge of writing a review for the album. I probably would not have thought to listen to this album on my own because of my previous disinterest with Mac Miller's earlier music. Good production, clever style, and strong features such as Kendrick Lamar, Arianna Grande , Anderson Paak and CeeLo Green. Definitely an album worth buying. Recommended Tracks: "God is Fair, Sexy Nasty", "My Favorite Part", "Dang" and "Stay."
7. Bobby Tarantino by Logic
 After dropping The Incredible True Story last fall, Logic dropped a mixtape during the summer of 2016, a surprise meant for his true fans he said on social media. With his freshmen and sophmore albums, Logic has climbed up the ranks as one of the best lyricists in the hip hop industry. Logic has announced he is already working on his next album and this mixtape was just a "filler" for his fans to pass the time while the wait. Despite this being only a mixtape, it was still one of the better projects of 2016. I enjoyed the "A Word from our Sponsor" skit, a continuation of the ongoing skits with Marty Randolph. This mixtape was a solid listen for Logic fans like myself as we await Logic's junior album. Recommended Tracks: "Deeper Than Money", "Super Mario World", and "Flexicution."
6. Still Brazy by YG
The third Compton rapper to make this year's list is YG with his album Still Brazy. This was one of the bigger albums of the year as far as the media coverage it got in part to the subject of YG's songs on the album and the relevance it had in society, the presidential election and more. "FDT", a song bashing candidate Donald Trump, seemed to be the anthem of the summer for most Hip Hop fans. The rest of YG's album is beautifully constructed with a combination of beats that range from  modern to old school gangsta rap. For an artist who is typically considered underground and does not receive much radio play, this album was a breakthrough for YG to the mainstream airwaves. If you are fan of gangsta rap, I highly recommend this album. Recommended Tracks: "FDT", "She Wish She Was", "Don't Come to LA", and "Still Brazy."
5. The Sun's Tirade by Isaiah Rashad
As I mentioned earlier in the blog, there was a couple artists this year that really burst on to the scene. Isaiah Rashad was one of them. As a member of TDE, Isaiah sort of gets overshadowed by the other artists who are signed the the label. But with this album, Isaiah makes a strong case that his name belongs amongst the other TDE heavyweights. Coming from Tennessee, Isaiah Rashad bring his own southern, jazzy rap style in this album. He has a few members of TDE featured on the album such as SZA, Kendrick Lamar, Jay Rock and non TDE artists like SiR and Zacari. A strong freshmen album by Isaiah and I expect nothing less from him in the upcoming future. I luckliy have the chance to see him perform live when he comes to Sacramento on his tour in March, so I will be counting down the days to that. Recommended Track: "T**y and Dolla", "Wat's Wrong", "Free Lunch", and "Stuck in the Mud."
4. 4 Your Eyez Only by J Cole
Very late into the year, J Cole decides to bless us with another album, the first since 2014 Forest Hills Drive. Cole was clever too and dropped it on the same date, December 9th, as the day he dropped 2014 FHD. This album and another actually delayed my process in finishing this blog as I had to listen to this a couple times through before I could properly critique it. A lot of fans on social media are quick to say they did not like the album and some even go as far to say that they hated it. I completely disagree. Sure, it might not be as strong of an album as 2014 FHD, but this is still a top 5 album of the year nonetheless. The storytelling J Cole displays in this album is truly amazing. Listen to the lyrics, especially the final track on the song "4 Your Eyez Only" and you will be blown away. I'm a little dissapointed that his single "False Prophets" did not make the final tracklist but it still is a great album that did not quite crack the top 3 on my list. Recommended Tracks: "4 Your Eyez Only", "Deja Vu", "Ville Mentality",  and "Neighbors."
3. Blank Face LP by ScHoolboy Q/ We Got it from here…Thank You for your Service by A Tribe Called Quest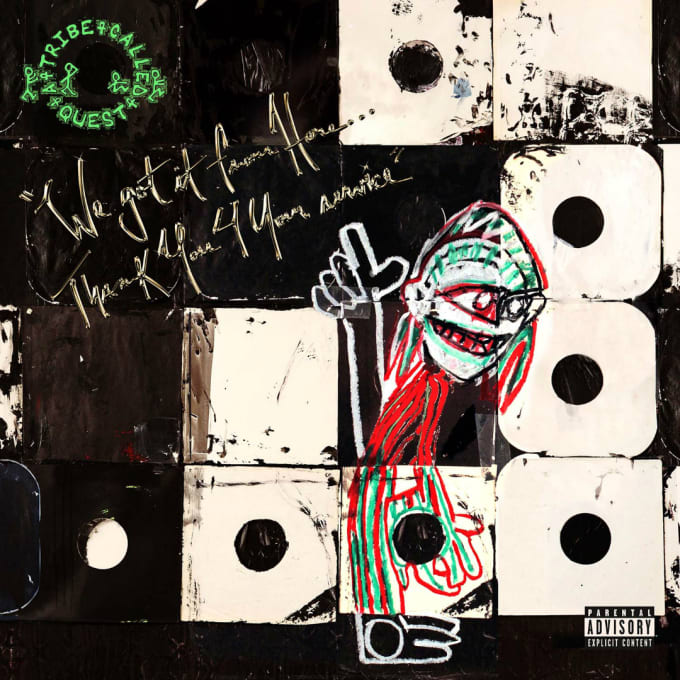 Another tie but its the last one I promise. Lets first start with ScHoolboy's album, Blank Face LP. Want to know what its like growing up in South Central LA 21st century? Look no further than this album. His first studio album since Oxymoron, which dropped in the spring of 2014, ScHoolboy had fans waiting a long time for this one. Q wanted to show he's capable of doing it on his own amongst the TDE heavyweights and did so successfully as he did not have a single Black Hippy member featured on the album. He still had a handful of big features including E-40, Vince Staples, Kanye West, Tha Dogg Pound, and Jadakiss to name a few. ScHoolboy Q also had a three part short film he released weeks before his album that were beautifully produced and acted as teasers to some of his album's songs. Overall, one of my favorite albums of all time. Recommended Tracks: "Dope Dealer", "Big Body", "By Any Means", and "John Muir." Next album, I have to start off by saying RIP Phife Dawg who passed away earlier this year in March during the production of ATCQ's album. You can't find a better farewell album this year, and arguably one of the best of all time from a music group. Listening to this album will take you back to the 90's and to one of the prime eras for Hip Hop music. They even had features like Busta Rhymes, Andre 3000, and Talib Kweli, guys who started their careers during that era. But they also included young rappers of the new school era with guys like Kendrick Lamar, Kanye West and Anderson Paak to give the album a solid mix of both. The albm was too good to not put in my top 3, thus the explanation for the tie. Recommended Tracks: "Conrad Tokyo", "The Space Program", "The Donald", and "Black Spasmodic."
2. Do What Thou Wilt by Ab-Soul
In my opinion and the opinion's of a couple others in my circle of friends, Ab-Soul won December 9th over J Cole. Still have not heard word if Ab-Soul released his album on the same day to make a statement, but in the heavyweight battle Soul being the underdog, I have to give Soul the belt. Ab-Soul is one of the most clever when it comes to play on words in his rhymes but this album took a little different twist that Ab-Soul's past albums. Feminism was the main topic of a lot of his songs, which isn't necesarily the case when it comes to the current Hip Hop industry. Ab-Soul said in an interview the weekend after his album dropped that "we have to respect the ladies more" which is something I can definitely stand behind. Dark but enlightening, is the best way to describe Soul's style and he continues that with this album. Recommended Tracks: "Threatening Nature, "Beat the Case", "The Law", & "Huey Knew THEN".
1. Coloring Book by Chance the Rapper
Drum roll please….and the best Hip Hop album of 2016 goes to Coloring Book by Chance the Rapper. I could go on and on about how great this album was but I'll try to keep it short and sweet. As I mentioned earlier, in  year where artists came with different styles, no style changed up more than Chance the Rapper's. Chance has grown and evolved into one of the top tier rappers in the industry and this album solidified his spot even higher on the list. The album can be similar to gospel rap as Chance talks about how he found god in his life and evolved as a person from it. Listen to Acid Rap, one of his early mixtapes, and then listen to this album. You will be surprised to know that is the same Chance the Rapper on both albums. The proudction, that artwork, the lyrics, the meanings of his song, everything about this album was great. I was fortunate enough to see Chance in concert on his tour this fall when he performed at UC Davis. My favorite album of the year and will be one of my favorite of all time. Recommended Tracks: "No Problem", "Angels", "All We Got" and "Smoke Break."